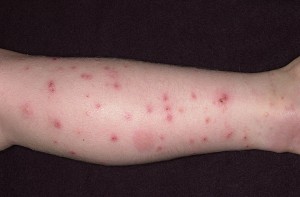 Fleas don't just bite and live on pets, they bite human beings too. One typical man's reaction to a flea bite is the formation of one small, hard and red itching spot which may not swell' though there is blood in some, if the bitten zone was scratched. Flea bites may result in excessive itching, as it is very much like mosquito bites. Just a single puncture from a flea generally affects the center of each spot.
Normally, flea bites occur on the ankles and legs. However, people react differently to flea bites. While some remain unattractive to fleas and are not affected by their existence or presence, the sensitivity of others to it may result in severe allergic reactions.
Should anyone fall victim to the bites of a flea, it's important that they run to a family doctor for medical treatment. Here are some simple home remedies for the effective treatment of flea bites on humans. They'll be able to relieve the itch. Ingredients are available right in your home.
It's important that affected area is kept clean. Use cold water to clean the bite with antiseptic (lotion or soap).
Apply any cold pack on the bite to reduce swelling.
Avoid scratching the inflamed area to prevent an open wound or any secondary infections.
If affected area is read and/or swollen, apply approx. 1% of hydrocortisone cream (or a calamine lotion). This can be easily obtained from a pharmaceutical shop without any prescription. The former helps to rapidly reduce inflammation.
Often, the itch caused by flea bites may be very intense. In this case, an oral dose of anti-histamine (Dimetapp, Chlortrimeton, etc) is effective in relieving the itch. Once the itch stops, scratching stops too and healing will rapidly take place.
Alternative effective treatment to flea bites also includes
It is very simple making a paste from cornstarch and water to relieve itching from a flea bite. Mix just one-half of cornstarch with about 3-5 tablespoons of water in a paste-like form. This paste substitutes for the calamine lotion without the pink colouring. Apply a little quantity of the paste to affected flea bite area. Leave open for about five minutes to dry up.
Lemons have an anti-inflammatory ingredient that helps in whatever swelling a flea bite may result into. In doing this, a fresh lemon juice or slices is required. If lemon juice is your choice, squeeze some on either a cotton ball or directly on the flea bite area. If you opt for lemon slices, extract the juice and rub the slice directly on the affected area. With either of lemon remedy choice, allow the lemon to dry on your skin by leaving it there for a few hours.
Many have aloe vera plants in their homes and don't realize that they're natural healers for various skin irritations. Even aloe vera gel can be used just as effectively as the aloe vera plant. Use the longest stem on the aloe vera plant, break it at the middle and look for that clear gel-like substance excreting out from the two halves. Smear this gel-like substance where it itches on the skin and leave it to dry. If you do have the aloe vera gel, squeeze a bit on your hand and apply to the flea bites and leave it to dry completely.
After treatment, avoid scratching your flea bite. Instead, re-apply the home made remedies of your choice to the area when and if the itching does persist. If the itching deteriorates, by remaining red and/or swollen with/without discharge(s) following a few days after using any of the home remedies, a trip to the hospital is strongly advised.