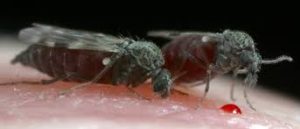 No See Ums are tiny flies, biting midges to be exact, that prove to be some of the most annoying pests imaginable. They're also referred to as sandflies. No see ums are members of a family of flies called Ceratopogonidae which includes more than 4,000 species throughout the world.
Measuring between 1-3mm long, they are much smaller than mosquitoes but far more vicious in many respects. Like mosquitoes, they suck human blood but their bites usually are more painful leaving itchy, red welts or worse, lesions, if you have an allergic reaction.
How to Identify No See Ums
The fact that these midges are so small makes it very hard to identify them. Most victims of their bite, usually don't even notice them until it's too late when only the stark evidence of their bloodsucking nature is revealed through skin welts and legions.
But knowing what to look for and where can help you be prepared to prevent these bites from
occurring in the first place. For instance, these minute flies are usually gray with dark-pattered wings. Like mosquitoes, they turn reddish as they bellied engorge with blood.
A victim of a midge's bite may notice a spot of blood on the site of the bite – a spot of blood which is, in fact, the midge's bloated body at a glance.
Look out for Female Midges 
Another important thing to understand is the pattern of behavior which the female flies exhibit. For instance, only female no see ums suck human blood!
Unlike their male counterpart that feeds solely on nectar, female no see ums suck blood from humans as well as other species to acquire protein for the development of their eggs. The larvae take as much as a year to develop but could take only weeks if the environment and food supply are optimal. For this reason, it's very important you set up preventative measures to get rid of no see ums.
How to Repel No See Ums
1. Get Rid Of Unsealed Water Contains
Water sources are a vital part of a no see ums life cycle. Female midges lay on surfaces containing moisture and larvae develop in aquatic areas such as streams or lakes or even moist soil. Their habitat largely depends on where you live but note they are opportunistic in nature and will make do with what your surroundings provide.
For this reason, remove or seal water containers. Manage any standing water that may be present in your yard, for instance in puddles, fountains, tires or so forth.
2. Use No See Um Screens
Since these no see ums are extremely tiny, regular mosquito screens will not do you justice. Use screens or netting designed with smaller mesh to prevent female no see ums from entering your home. Be sure to place screens on patio, doors and windows and check them regularly to verify they are in good condition.
3. Use Repellants to Prevent Bites
Repellants can be very useful when it comes to preventing no see ums and biting insects from biting. Rub or spray repellents containing DEET, for instance, to make yourself unappealing to female midges. If, however, you are allergic to repellents with DEET, you can give DEET-free repellents a try. These repellents are made with natural substances such as eucalyptus and lemon. They are effective and great alternatives for users who are allergic to DEET.
4. Kill No See Ums with Insecticides
Insecticides have proven to have varying degrees of success when it comes to killing no see ums. Since these biting flies are so small and their habitat large in scale, it is often hard to get rid of them. However, insecticides, when used with caution, can help in reducing the effects of an infestation. The EcoRaider, is one such insecticide that has proven effective when combatting no see ums and mosquitoes. Not only does the EcoRaider kills no see ums adults and larvae, but it's natural and non-toxic. That simply means that it's children and pet safe and can be used indoors and outdoors. Unlike most flying insect killers, EcoRaider is pleasing to smell and doesn't stain.
5. Turn on Fans
Crank up those fans to full speed. Since no see ums are not strong fliers, ceiling or standing fans will help keep them away. This is particularly important at nights when one of the peskiest midges, the Culicoides species, feed.
6. Switch off Lights
The females of the Culicodes species are also attracted to light so beware. Don't be afraid to turn off the lights a bit earlier than usual. You'll save a bit on your energy bill and best of all avoid those biting midges!
7. Wear Clothes with Long Sleeves
Long sleeves and jeans will protect your skin from exposure, especially when you go outdoors. Also, wear socks to protect your feet from those itchy bites.
You don't have to see 'em to get rid of no see ums! Though they are difficult to totally eradicate, simple steps like the ones mentioned above can help you avoid getting bitten.
Treatments for No See Um Bites
It's highly improbable to completely avoid being bitten by no see ums. When you do get bitten, applying the appropriate treatment is crucial to reducing uneasiness and discomfort. After being bitten, no see ums tend to leave red, itchy bumps behind. If you have an allergic reaction, you might
be left with hives or rashes on the skin. This can be an awful experience!
The ideal treatment to apply to bitten areas includes topical steroid or antihistamine taken orally. These treatments will aid in removing itchiness, and inflammation. In some instances, no see um bites might take up to a week to disappear; however, in common cases, give it a few days. It's a rare occurrence that no see ums are able to transmit diseases from their bites; however, it's quite feasible. Once a bite becomes infected, that's a clear indication you need the counsel of a physician.
How to Get Rid of No See Ums [VIDEO]
---
This post contains affiliate links. You can opt to purchase the recommended products through our affiliate links. When you do, Online Pest Control receives a small commission that is later used to maintain the website and produce informative articles and videos for you to benefit. If you do not wish to use our affiliate links, the products can be attained at your local stores and shops.