What are Thrips?
Thrips are tiny, slender insects with fringed wings. They are also known as thunder flies/bugs, storm flies, and corn lice. These pests feed on plants and animals by puncturing them and sucking up their contents. This is especially devastating because a large number of thrips species feed on plants that have commercial value. Many species can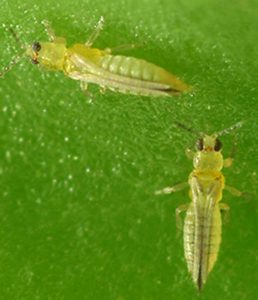 increase exponentially in the right conditions, such as in a greenhouse. They can form large swarms here because of the lack of natural predators. Aside from feeding on plants, they can also act as a vector for transmitting viruses to weak and young plants.
Like many other garden pests, there are good thrips, as well as bad thunder flies. The focus of getting rid of thrips in a garden should actually be shifted to the thought that they should be controlled rather than totally eradicated. Having the good species of thrips on flowers will actually help to kill other pests.
Life Cycle of Thrips
Thrips undergo at least 5 stages in their development. This includes the egg, larval, prepupal, pupal, and adult stage. At approximately 20°C, thrips would take at least 19 days to fully develop from an egg to an adult and are known to laying up to 2-10 eggs in an any given day. This is especially the case with the female western flower thrips (they usually live up to a month). Under 25°C, thrips might take up to at least 13 days to mature from an egg to an adult. The eggs are usually inserted into plants soft in tissue. These include the leaves, flowers, stems, and even fruits of plants. A typical case in point: When inserted into sweet peppers, once the egg is hatched, the leaves will appear speckled. The level at which the leaves discolor in appearance is dependent on the number of hatched eggs.
Once thrips get to the larval stage, they will undergo 2 instars. These will develop and draw sustenance from leaves, fruits, flowers. Once in the prepupal and pupal stage, the cycle is often completed with the thrips developing on the ground. In some cases, pupation will take place on the leaves of the plant. Once a thrips reaches the pupa stage, their wings and other adult structures will begin to assume formation.
What Do Thrips Look Like?
Thrips are minute insects that may or may not have wings. Thrips (always spelled with an 's') derived its name from the Greek word (thysano) meaning fringed, and is of the order Thysanoptera. Thrips with wings always bear a fringed appearance. Over 5000 species of thrips have been discovered up to date, and differ in size. However, most encountered thrips range from 0.5 to 5mm in measurement (length). They possess clear-cut mouthparts, which are asymmetrical in shape and carry two mandibles with one more elongated than the other. The mouthpart of thrips is used as sucking instruments since they do puncture the surface layer of plants and pull up sap. Others use their mouthpart to pierce animal skins, including other insects on which they prey. Body fluids are pulled up in this
process.
Thrips that are immature in nature (referred to as larvae or nymphs) bears a slender or elongated body and do not have wings. You'll find thrips available in opaque white, black, dark brown, or yellow. In some cases, thrips might even appear greenish in color.  Some predatory thrips tend to bear a slightly different form, sometimes appearing as a reddish-orange hue. In fact, the predaceous thrips, usually bearing sixspots, is highly distinguishable, as it possesses dark spots on each wings.
How to Identify the Presence of Thrips
Thrips will deposit their eggs into plants via their ovipositor. These eggs then leave a halo-like spot on the leaves or fruits where they were laid. When the egg turns to pupa, it causes further discoloration. The damage from adult thrips will be done to flower buds, fruits, and vegetables.
Because they are so tiny, they are almost impossible to be seen by the naked eye. These pests are mostly contained to plants and other greenery, if they happen to get on a human, they will "bite" but do not feed on blood. The bite will just be irritation and cause no harm.
Growth stunting, damaged leaves, petal discoloration, are all signs that thrips have been feeding on the plants. Though they can damage smaller plants like this, it is rare that the life of a tree or shrub will be threatened by an infestation of thunder flies.
How to Control Thrips
Because of their small size and high reproduction rate,  it is difficult to control thrips with classical biological control. Biological insecticides such as Beauveria bassiana or Verticillium lecanii work on all stages (eggs, larvae, and adult) of thunder flies. Insecticidal soaps, which are commercially available and can be made at home with certain soaps, are also effective against thrips.
If an infestation of thrips occurs in a field or greenhouse, growers are less likely to make use of pesticides. Aphid, wasps, anthocorid bugs (minute pirate bugs), and phytoseiid mites are all biological agents of larvae and adult thrips.
Two biocontrol agents that can be used are Neoseiulus cucumeris, for the larvae, and S. scimitus for the pupal stage that happens in the ground. They have proven successful when used in a preventative and aggressive manner in both greenhouses,
as well as interiors.
Using the Bug Blaster can reduce pest numbers by spraying plants with a strong, encompassing spray of water.
How to Treat Plants for Thrips
It is possible to plant a trap crop to see if thrips are present. Asters, petunias, and fava beans are all crops that will show signs if thunder flies are present and if they are introducing any viruses. Leaf spots, oozing brown patches, dead leaves, and concentric rings of varying colors are all symptoms that will present themselves if thrips are existing in the area.
Remove weeds and grass from around garden areas to eliminate alternate hosts for thunder flies. Crop debris should be cleaned up from the garden, onion leaves especially. Green mulch will attract thrips but dry mulch will not.
Monitor populations by using Blue or Yellow sticky traps. When using pesticides, it is possible to kill both harmful and beneficial thunder flies, so using less toxic insecticides would be best.
Regular pruning and getting rid of any injured areas on the plants is a useful way to control thrips. Neem oil can be sprayed on flowers at the first sight of damage caused by thrips. Consistent watering will help to control the harmful thrip population.
Avoid using fertilizers that are comprised of nitrogen, these tend to promote higher populations of thrips. Gardeners can also help to avoid an infestation by planting flora that are adapted to thrive in the site you are planting them. Plants that are planted in an area that they are not adapted to will be more susceptible to damage by thrips.
---
This post contains affiliate links. You can opt to purchase the recommended products through our affiliate links. When you do, Online Pest Control receives a small commission that is later used to maintain the website and produce informative articles and videos for you to benefit. If you do not wish to use our affiliate links, the products can be attained at your local stores and shops.